MEMORY CARE IN PHOENIX, AZ
Caring memory support for your loved one
Caring for a loved one with dementia is daunting, emotional and exhausting. At Beatitudes Campus, we can help. We've partnered with leading experts to set the standard in exceptional memory care and support. Our award-winning and nationally recognized Comfort Matters® program ensures residents have the flexibility, freedom and respect to pursue their personal interests in a safe, nurturing setting. It's an approach that leads the way at our dementia-friendly campus in Phoenix, Arizona, and at other care organizations around the country. Since dementia affects the whole family, we care for families, too, with support groups and educational programs to help everyone cope with the changes and uncertainties.
If someone you love needs memory support, call us at 602.536.4734.
Is this dementia?
Learn more about the changes you're noticing and what you can do about them in this quick 5-minute survey.
Start Now
Learn about our memory support options
Whether your loved one needs early, moderate or advanced memory support, we offer a full spectrum of highly specialized, person-directed care that fosters residents' independence and sense of well-being and control. We work with individuals and their families, doctors and specialists to bring together the right mix of resources, from familiar routines and activities to helpful adaptive devices and medication management.
Early Memory Support Starts at $5,397 a month
Located in the Virginia G. Piper Residences, our specialized early memory support offers a familiar, homelike setting. Residents can choose from a variety of enjoyable activity programs for entertainment, strengthening cognition and socializing with friends and neighbors. The monthly fee starts at $5,397 with a one-time move-in fee of $1,750. Final pricing depends on the size of the apartment or type of suite and the personalized services you choose.
All-Inclusive Living

Choice of a private or shared suite
Residents set their own schedules and routines
Dining available around the clock
Social, spiritual and recreational activities
Award-winning Patty's Garden for enjoying the outdoors
Secure environment with 24-hour caregiving services
All utilities, DIRECTV®, internet and phone
Daily housekeeping
Regular personal laundry and linen service
Support Services

Truly personalized support tailored to each individual

Certified caregivers on-staff 24 hours/7 days a week

Licensed nurse monitors and coordinates care

Monthly weight and blood pressure checks

Transportation to medical appointments within 10 miles

Resident paging, emergency response and crisis intervention 

Coordinate medication deliveries and refills
Additional Services for Fee

Salon services

Assistance with bathing, dressing and grooming

Optical, dental and podiatry services

Coordinate medical supplies, nursing services and rehabilitative therapies as needed

Reminders and/or escort to dining and activities

Assistance with transferring

Incontinence care, including enhanced personal laundry and housekeeping

Two-hour safety checks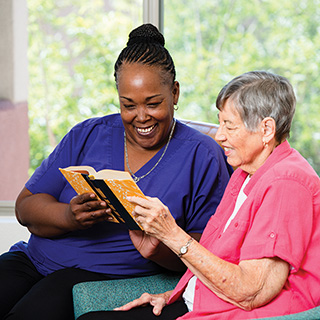 Moderate to Advanced Memory Support Available for $309 a day
In Vermilion Cliffs, our caring, compassionate staff provides comfort-focused advanced memory support in a safe, inviting neighborhood. Highly trained to anticipate each person's needs and wants, our caregivers strive to connect and encourage, nurture and inspire to help residents make the most of every day. Moderate and advanced memory support is available for $309 per day. Final pricing depends on the type of suite and the personalized services you choose.
All-Inclusive Living

Choice of a private or shared suite
Residents set their own schedules and routines
Dining available around the clock
Social, spiritual and recreational activities
Award-winning Patty's Garden for enjoying the outdoors
Secure environment with 24-hour caregiving services
All utilities, DIRECTV®, internet and phone
Daily housekeeping
Regular personal laundry and linen service
Services

Caregivers and a licensed nurse on staff 24/7

Restorative nursing services

Assistance with dining as needed

Incontinence care

Social services and case management

Pastoral care

24/7 emergency response system
Additional Services

Physical, speech and occupational therapies

Medication management

Coordinate incontinence supplies

Coordinate oxygen supplies

Optical, dental and podiatry services

Salon services

Hospice care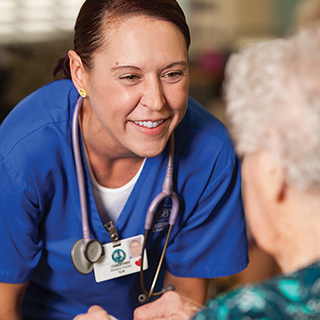 Additional health services