We are open to visitors! Please review our visitor guidelines and complete the required forms here.
Everyone is Welcome Here
At Beatitudes Campus, everything you want and need comes together here. You'll find an open, connected senior living community infused with friendship, laughter and inspiration. Choices abound, bringing opportunities to fuel your passions. You'll find strength and stability, too. Since 1965, our not-for-profit mission to serve has been inspired by Arizona's Church of the Beatitudes.

Learn About Beatitudes Campus

As an independent living retirement community, Beatitudes Campus offers a variety of residential options to fit your lifestyle as well as your financial planning. If you like the energy and convenience of living in the heart of our community, you'll find spacious apartment homes in a variety of sizes and styles. If you prefer a traditional neighborhood, check out our beautiful, new patio homes.

Learn About Residential Options

At Beatitudes Campus, you're prepared for tomorrow's what-ifs. As your needs change, you have easy access to additional services — from physical therapy to recuperative care after an illness or surgery to assisted living. We even offer nursing care, too, should you ever need it. For affordable senior living in an exceptional retirement community, we invite you to discover Beatitudes in Phoenix, Arizona.

Learn About Health Services
Holleran's "Choice Community Award" recognizes the most engaging senior living organizations in the nation. "To become a Choice Community recipient is to earn a distinction that is truly meaningful. It means that the campus is a place where engagement is deeply felt; a place where residents are successfully aging and where employees are passionate," says Michelle Holleran, CEO. Beatitudes Campus is proud to announce the honor of being selected as a 2019 Choice Community.
Holleran is a full-service community engagement research and consulting firm with offices in Pennsylvania and Colorado. Learn more at http://www.holleranconsult.com.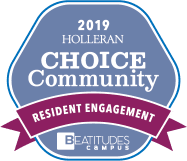 Every year, LeadingAge bestows this award to members who provided nationally significant, transformative leadership in aging services. Recipients show vision, mission, compassion, and courage every day in their communities. –LeadingAge, 2020