Beatitudes Campus Earns National Choice Community Award as an Outstanding Senior Living Community
February 3, 2020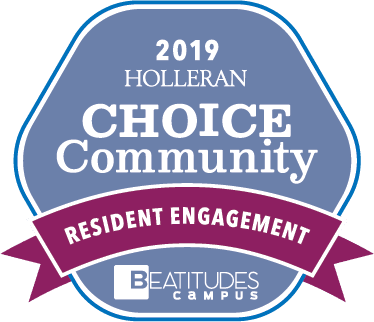 PHOENIX (February 3, 2020)
Beatitudes Campus earns national Choice Community Award as an outstanding senior living community
Beatitudes Campus ranks in Top 15 percent for creating a culture of engagement and satisfaction
Beatitudes Campus was awarded the Choice Community Award in recognition of the strong culture of engagement by Holleran, the nation's leading provider of actionable business intelligence for those organizations that serve older adults. This award places Beatitudes Campus in the Top 15 percent of the more than 700 communities that were surveyed nationwide.
"We are incredibly proud to earn the distinction of a Choice Community Award," says Michelle Just, president and CEO of Beatitudes Campus. "It signifies that the campus is a place where engagement in the community is deeply felt, where residents are successfully aging and where employees are passionate. This award is confirmation that the campus is alive with the commitment to be a community that our residents and staff value."
For a community to earn the "Choice Community Award," it must be a cut above," says Michelle Holleran, CEO. "To become a Choice Community recipient is to earn a distinction that is truly meaningful."
The Choice Community Award recognizes organizations with strong cultures of engagement. Awards are granted by exceeding Holleran's "Engagement Index" benchmark with a mean score of 85 or higher on a 100-point scale.
Holleran has the largest benchmark of its kind, measuring both resident and employee engagement in the senior living space. Currently, the benchmark comprises more than 160,000 resident and employee surveys conducted nationwide. "This enables organizations to compare their performance to their peers, whether they are across the road or across the country," says Holleran.
Beatitudes Campus annually commissions the research firm of Holleran to measure the many areas of engagement from our staff and residents. The most recent survey was conducted in late October. "The campus conducts the Holleran resident and employee and resident engagement surveys in tandem because we believe that a strong connection between employee and resident exists, says Just. "After all, the people who live here and people who work here make up the beautiful tapestry that is Beatitudes Campus."
About Beatitudes Campus:
Founded in 1964, Beatitudes Campus is a not-for-profit life plan community offering a wide spectrum of services for older people including independent living, assisted living, skilled nursing, memory support and home health services. The campus has served more than 17,000 older adults since it began. The campus uses a resident-focused approach to provide the most successful living experience possible; resident empowerment and purposeful living is everyone's primary concern.
Contact:
Barbara Wood
Beatitudes Campus | 1610 W. Glendale Ave. | Phoenix, Arizona 85021
Ph: 602-995-6136
https://facebook.com/BeatitudesCampus