Celebrate National Senior Health & Fitness Day By Moving More
May 20, 2020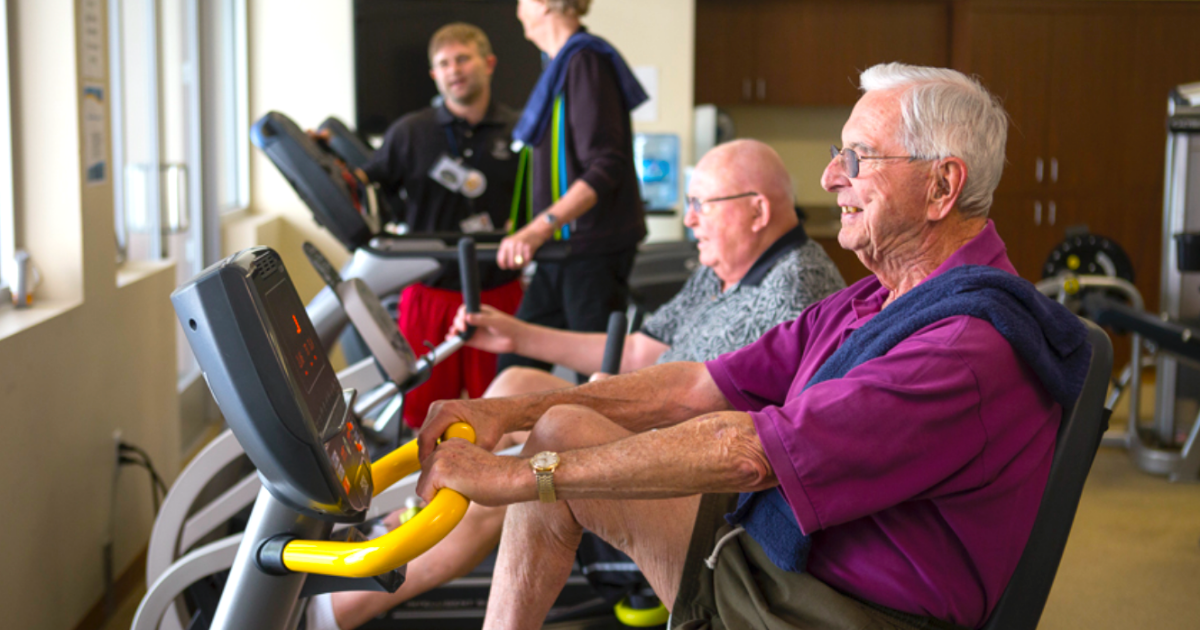 Staying Active Offers Big Benefits for Older Adults
In honor of National Senior Health and Fitness Day on May 27, we invite you to mix more motion into your routine. Whether you're learning to exercise for the first time or are a fitness enthusiast, now is a great time to take the next step toward better health.
Physical exercise offers significant benefits for all older adults, according to the Centers for Disease Control and Prevention and other well-respected researchers. Being active helps maintain your ability to live independently and reduces your risk of developing diabetes and some cancers. It can help control arthritis pain, reduce your blood pressure, and improve your stamina and strength as well as your mood and emotional well-being.
Given those benefits and so many more, it's essential that we stay physically active as we age. It's also why Beatitudes Campus proudly fosters an engaging, active lifestyle. And, because everyone enjoys different types of activity, we offer a wide variety of fitness and wellness opportunities. From line dancing and tai chi to walking and water aerobics, from putting on the golf green to Wii bowling and more, there's something for all ages and all fitness levels.
CDC Fitness Fast Facts
Improve your energy and stamina by doing activities and exercises that get your heart beating faster several times a week.
Get stronger by making your muscles work harder at least twice a week.
Virtually all types of motion counts as exercise, including walking the dog, doing laundry, taking the stairs and playing catch with grandchildren.
Among adults aged 65 years and older, walking and gardening or yard work are, by far, the most popular physical activities.
Try a Class
If you've ever played sports or enjoyed playing outside with your kids or grandkids, you know that exercising with others can be a lot of fun. It brings laughter and camaraderie and provides motivation and social support.
The best fitness classes bring together all of those elements plus an experienced instructor who takes the guesswork out of what to do, how to do it and when. If you're looking for motivation and expert guidance while staying at home or want to try a class before taking it in person, check out the free exercise videos on the Beatitudes Campus Fitness YouTube channel.
Beatitudes Campus' fitness trainers Mike Smallwood and Camille Beaubien lead you through a variety of exercises that promote strength, balance, mobility and flexibility. You'll also find instructor-approved tai chi and yoga videos posted by residents. You can follow along in the comfort and privacy of your own home.
For most exercises, all you need is a chair and hand weights. If you don't have hand weights, you can use something around your home that has some weight and is easy to grip. For example, try a filled water bottle, canned goods, a book, or bag of rice or beans.
Beatitudes Campus is all-in with fitness and wants to help you stay active and motivated. Be sure to join our fitness trainers Mike and Camille as they guide you through various wellness activity YouTube videos from home!
If you're looking for additional research and education on the benefits of physical activity, check out this science-based guide from the CDC for the benefits, how to track your progress, and more.
To learn more about all of Beatitudes Campus's fitness and wellness opportunities call us today at 602.883.1358 or contact us online at BeatitudesCampus.org.