Couple Enjoys the Feeling of Safety at Beatitudes Campus
August 20, 2021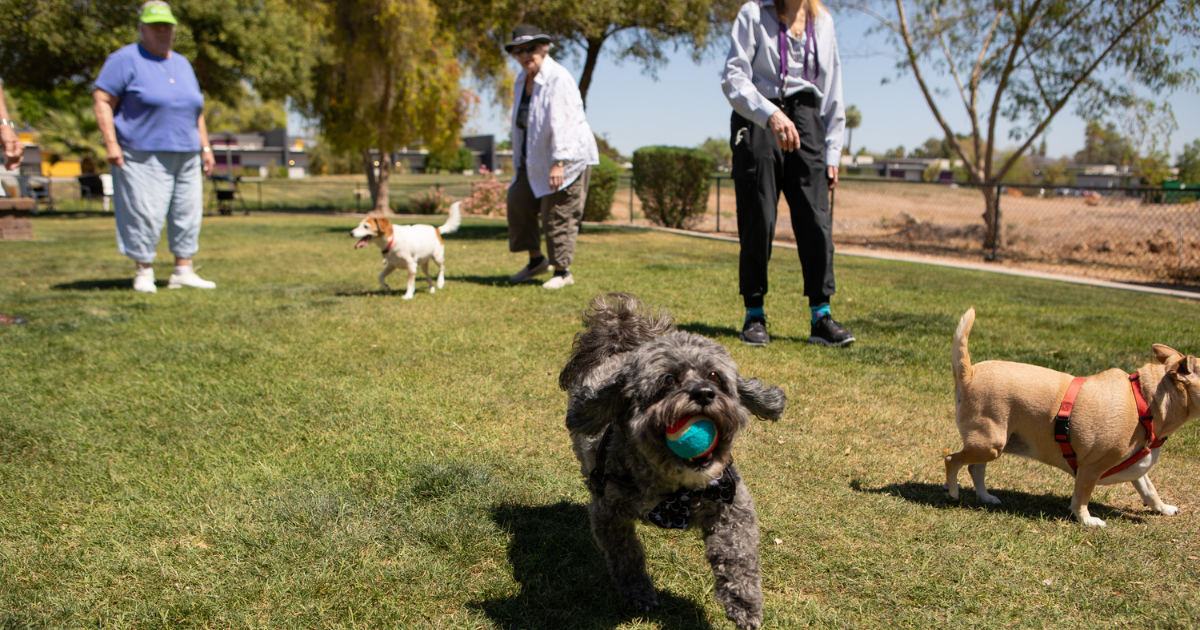 The feeling of safety at Beatitudes Campus is almost palpable. If you glance around Beatitudes Campus, you'll notice residents going about their day — from gardening or walking their dogs to chatting on a bench with friends or counting steps with their pedometers. When the temperature turns cooler in the evening, you'll find an especially bustling atmosphere.
While so many of us might take this for granted, Robert Andrews doesn't. Before moving to Beatitudes Campus, Robert always enjoyed the exercise and fresh air that came with walking his dog. He did so daily without giving it a thought until one day when it all changed.
"An event near our previous neighborhood made us feel unsafe, so I started carrying a baseball bat while walking our dog," he said. "It was a terrible feeling."
Safety at Beatitudes Campus And in the Surrounding Community
When Robert and his wife, Cynthia, began to explore the idea of moving to a senior living community, the couple prioritized a safe, secure neighborhood that would provide the freedom to enjoy life without worry. They found it at Beatitudes Campus and the surrounding 19NORTH neighborhood.
Ensuring the North Phoenix neighborhood is a safe, welcoming, walkable community for all is the goal of the 19NORTH Community Alliance, a grassroots effort that brings together community leaders, city officials, businesses, schools, faith-based groups and other non-profit organizations. The alliance focuses on the 19NORTH neighborhood between Montebello and Dunlap Avenues, from 15th Avenue to 23rd Avenue.
Beatitudes Campus' location on Glendale Avenue is in the middle of the 19NORTH neighborhood, offering residents and staff the opportunity to enjoy the benefits of living and working in an active, involved, multi-generational community.
For greater peace of mind, Beatitudes Campus takes the commitment to a safe, walkable community even further. Here, you'll find 27 acres of interconnected walking paths and roads, green space, gardening areas and dog parks all within our gated neighborhood that's manned with 24-hour security. You can freely enjoy exercise, fresh air, and visiting with neighbors and staff knowing help is nearby if it's ever needed.
For Robert and Cynthia, like so many others, it makes all the difference. Today, you'll find Robert walking around Beatitudes Campus for exercise, greeting neighbors and staff along the way.
"Beatitudes Campus is an oasis in the city. Because it's safe, we feel comfortable doing what we love," said Robert. "I love to walk. Now, I can do it as much as I like without having to carry a baseball bat."
To meet more residents like Robert and Cynthia, visit our video gallery. They offer a delightful and candid insider's view of campus life.
To take a tour of Beatitudes Campus, call (602) 833-1358 or contact us through our online form below.