Our Beatitudes At Home Program Puts You in the Driver's Seat to Live Brightly and Age Boldly
October 20, 2023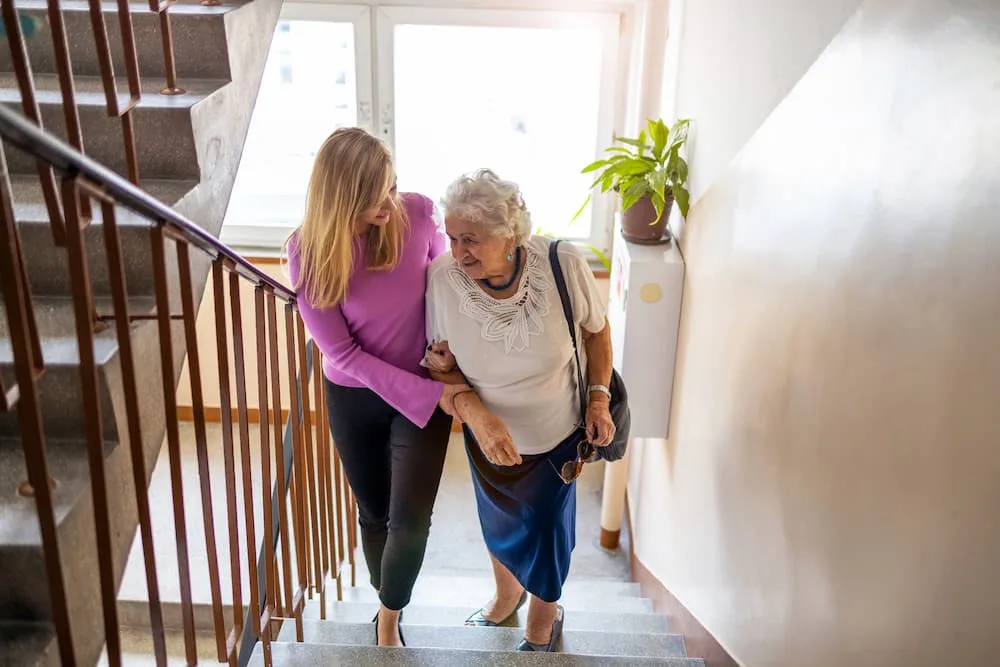 Dorothy was onto something when she clicked her ruby red slippers in the hopes she'd return to her place of comfort, embraced by loved ones. Home is the ultimate destination.
This especially holds true for vibrant older adults living life to the fullest, embracing each day with energy and enthusiasm. As you age boldly, a little extra senior support can help you continue shining brightly and maintain your independence in familiar spaces, surrounded by familiar faces.
That's where Beatitudes at Home comes in. With personalized packages catered to support the specific needs of older adults, Beatitudes at Home empowers you to stay active and make proactive decisions about your future needs. Assistance programs offer just the right amount of assistance at the right time in the comfort of your home and assisted living if the time comes.
Customized Help for Older Adults and Loved Ones
Our Beatitudes at Home program brings exceptional senior support directly to your doorstep. Whether you or your loved one require assistance for a few hours or ongoing help, our trusted and experienced staff provide personalized, in-home care and helpful services. With Beatitudes at Home, we tailor the perfect assistance plan to meet your unique needs.
Home Support for Seniors
Beatitudes at Home covers a wide range of nonmedical services to make your life easier and more enjoyable. Whether it's housekeeping or daily living support, we've got you covered. Beatitudes offers flexibility and customization, adapting to your evolving needs with plenty of choices. From assistance with household chores, errands and meals to medication reminders, our dedicated employees become like family and personal assistants rolled into one.
We understand everyone is unique and that's why we provide services tailored to older adults' preferences and needs. Beatitudes at Home support for seniors includes:
Meal preparation: Enjoy delicious and nutritious meals prepared to your liking.
Transportation and escort services: Stay connected to activities and medical appointments.
Personal care assistance: Get the support you need with bathing and dressing.
Errands, grocery shopping, mail delivery and pickup: Let us handle the to-do list while you focus on what matters.
Laundry and light housekeeping: Maintain a clean and comfortable living space.
Medication reminders: Ensure you stay on track with your medications.
Pet care: Because furry friends are an essential part of our lives.
Companionship: Enjoy meaningful interactions and social connections.
End-of-life support: Compassionate support during difficult times.
Benefits of Beatitudes at Home Care for Seniors
Receiving care and support right at home offers numerous benefits for seniors and their loved ones:
Being in the familiar surroundings of home promotes a sense of comfort, security and emotional well-being. And family members have peace of mind knowing their loved ones receive personalized care and support in a comfortable and familiar space.
Older adults and their loved ones can maintain their independence, have more control over their daily routines and can continue engaging in activities they enjoy.
In-home assistance allows for personalized plans for older adults' specific needs and preferences, such as medication management, assistance with daily tasks and companionship.
Seniors receive one-on-one attention from caregivers, ensuring focused and personalized assistance.
Home care is often more cost-effective than other forms of care.
In-home care enables aging adults to maintain relationships with family, friends and neighbors, fostering a solid support network.
Avoiding the stress and disruption of moving to a new environment can positively affect seniors' overall well-being.
From Companionship to Care, Beatitudes at Home Puts You in Charge
With Beatitudes at Home, you can live brightly and age boldly through personalized support that respects your independence and empowers you to make informed decisions about your care.
Whatever program best fits your needs, our dedicated team will be by your side ­– ensuring you receive the right amount of assistance at the right time. Most importantly, you can rest assured we're here to support you through every stage of life, adapting to your changing needs along the way.
Learn more about Beatitudes at Home services.
Featured Image: Piksel / Shutterstock