Pet-Friendly Senior Living & The Power of Pets
August 27, 2020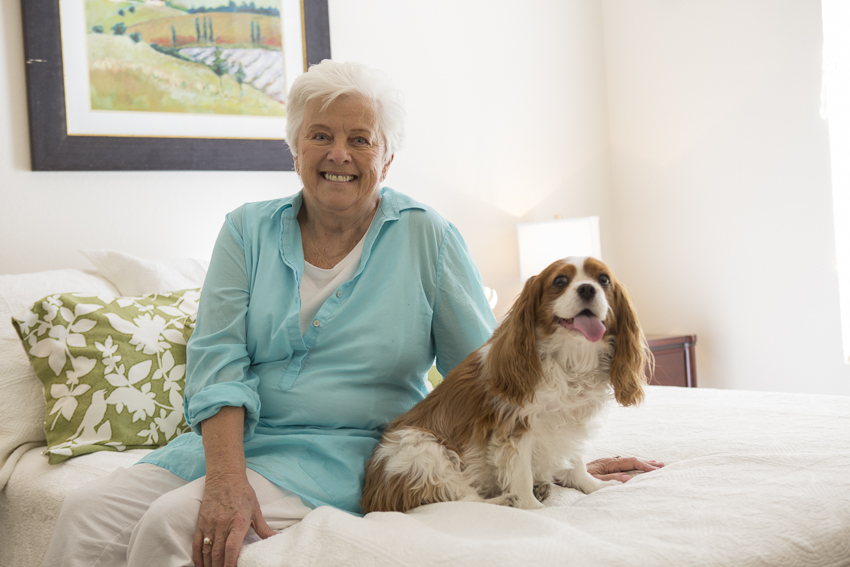 Loving our furry friends makes us healthier.
For National Dog Day on August 26, we honor our four-legged friends and their amazing contributions. They calm and comfort, save lives, help those with disabilities and serve in the line of duty alongside law enforcement and military personnel.
It's fitting that cat lovers have their day, too, with National Cat Day on October 29. There are few things that can soothe a stressful day than petting a purring cat or laughing at a mischievous kitten. It's what makes looking for a pet-friendly senior living community so important.
Taking care of a cat or dog can provide a sense of purpose and create much-needed structure and routine to our days, especially as we age. As retirement — or the pandemic for that matter — keeps us closer to home, a pet companion's unconditional love and loyalty can stand in for family and friends. Just knowing there's someone at home who needs you and is happy to see you can feel reassuring and rewarding.
Along with love and companionship, pets offer a variety of benefits.
Whether you love a cuddly cat or a plush pooch, caring for a furry friend could be good for your health*, according to scientists. It's possible that a well-matched pet can help:
Decrease stress and anxiety
Decrease blood pressure
Decrease loneliness
Increase exercise and outdoor activity (dogs)
Decrease cholesterol levels (dogs)
Increase socialization (dogs)
Improve sleep
Improve self-esteem
*According to the National Institutes of Health and the U.S. Centers for Disease Control and Prevention.
Making a move? Look for pet-friendly senior living communities.
If you're looking to make a move with your favorite canine or feline, it's important to verify that the residence, immediate neighborhood and broader community are all pet-friendly.
What are the rules and limitations regarding pets?
Does the apartment, condo or patio home have room for you and your pet to move?
Do you have easy access to the outdoors for your dog to exercise?
Can you easily take your dog for an extended walk or run?
Is it a safe area at night?
Is there a fenced-in dog park?
Are there pet waste stations?
Are there any organized pet-friendly activities?
Is there assistance available to care for your pet while you're away or receiving medical care?
At Beatitudes Campus, your four-legged friend is most welcome. You'll find doggie treats in every building, multiple dog parks with pet waste stations and paved walking areas throughout our campus — all within a gated, secure community monitored by staff 24/7. Our Beatitudes at Home program offers a variety of helpful services, including pet care.
Let's Talk!
For more about Beatitudes Campus and our pet-friendly services and amenities, call us today at 602.883.1358 or send us a note using the form below.