Promenade Residences: The Perfect Choice For A Couple Not Ready To Move
July 21, 2021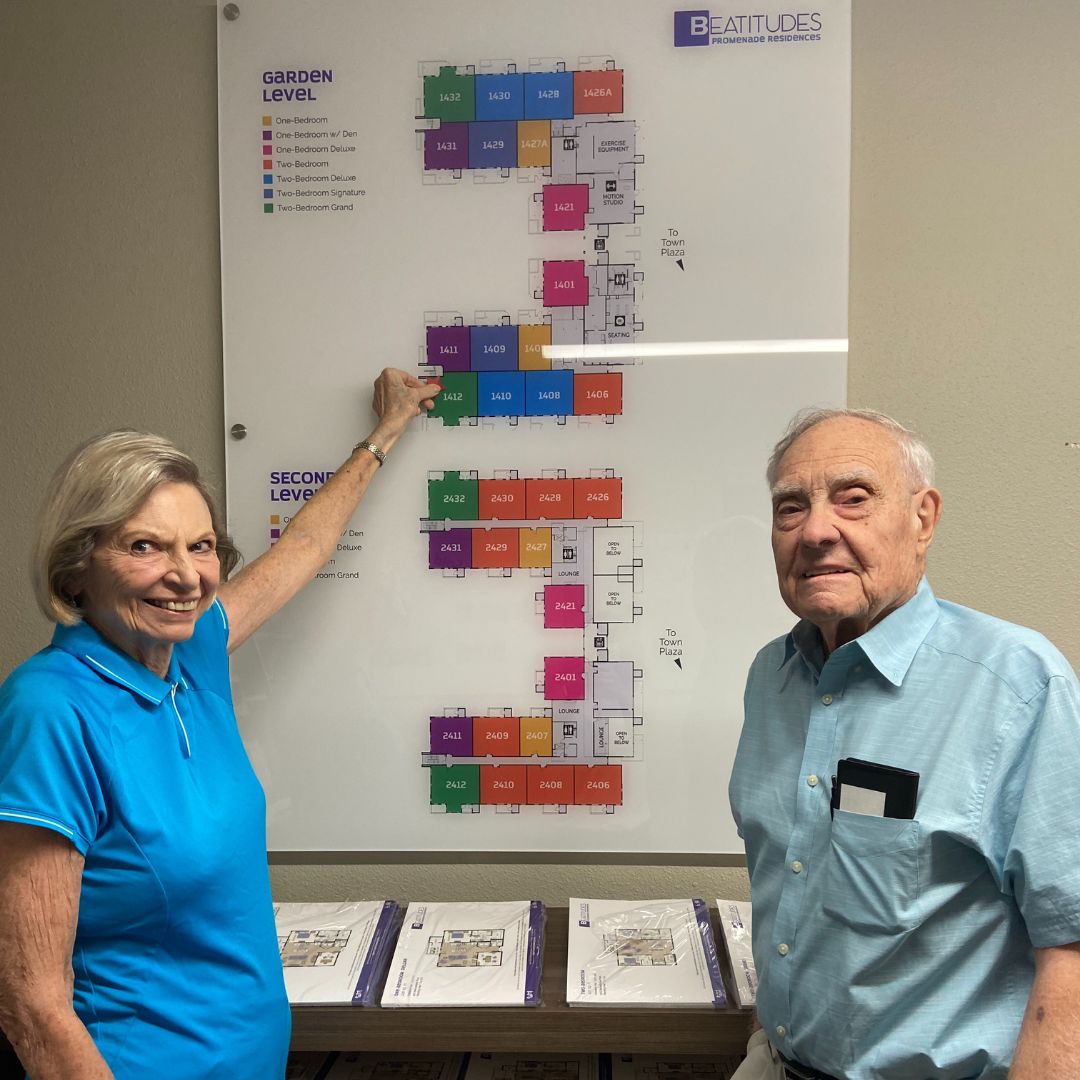 Future Expansion Offers Right Place In The Right Community At The Right Time
When Beatitudes Campus began its new expansion of Patio Homes, Marta and Tom Brooks of Phoenix, Arizona, were interested but the timing felt off. They weren't quite ready to move yet. However, when the senior living community announced its latest expansion, the Promenade Residences, would be coming in 2023, they jumped at the opportunity to be the first in line to choose their new place.
"We've been thinking about and planning for the future. We like the idea of living in a community that offers helpful services, maintenance-free living and care options. We've looked at quite a number actually, both here in Phoenix and in Flagstaff, where my husband's daughter lives," said Marta. "Beatitudes Campus was the best fit for us. The Promenade Residences offered the perfect solution. We could get our choice of a new place and we didn't have to move in immediately."
For Marta, a retired healthcare executive and former nurse, Beatitudes Campus was a top choice from the beginning. She had previously worked with the community in her role at a not-for-profit organization.
"I had worked with Beatitudes Campus as well as other senior living communities on a professional level for some time. My familiarity with the staff and the day-to-day operations made me very comfortable with them," she said.
Charter Members Get First Choice
As part of the expansion, Beatitudes Campus developed the Promenade Charter Membership program to give future residents the ability to learn about and evaluate the plans for the new residences and get to know Beatitudes Campus better. Those who are ready to take the next step can choose their favorite floor plan and location from the available residences. As the first Promenade Charter Members, Marta and Tom had their pick of any place in the building. They chose a spacious Two-Bedroom Grand apartment on the corner.
"We both love the layout. I particularly find it appealing with its open great room and the location of the guest room versus the master bedroom and the spaciousness of the storage and closets," said Marta. "We're absolutely delighted with the way they organized the layout of the property to include resources in the building without having them right at your front door."
Promenade Charter Members enjoy other benefits too, including lower pricing, choice of features, finishes and upgrades, invitations to special events and more.
"We especially liked being able to hear about the plans before anyone else and the ability to choose where we wanted to live," said Marta. "Plus, we've been able to participate in some of the decisions about the interior finishes, which was nice."
Making The Transition
Even as exciting as it is to watch one's plans come into focus, the thought of making a move can still feel daunting. For Tom, a retired judge and lifelong Arizona resident, moving from his home of 40 years feels bittersweet. To help ease the transition, Beatitudes Campus offers a variety of moving resources.
"He's been living here since 1982 and making the transition is a big deal. Thankfully, Beatitudes Campus offers so much support for the move. He definitely didn't realize how valuable that is," said Marta. "I was an Army brat and lived in 27 different houses, not counting transition housing so moving to me is something I could do in my sleep."
Along with help with moving, Beatitudes Campus offers one-on-one assistance from a residency counselor.
"Part of the pleasure of this experience has been working with our residency counselor, Sara Paull. She has become a member of the family. She's very responsive and absolutely wonderful, and a reflection of the nature of the staff at Beatitudes Campus," said Marta.
Summing It Up
With all that the Beatitudes Campus lifestyle offers, what are Marta and Tom most excited about when thinking about their future move into the Promenade Residences?
"There's a certain burden with homeownership and that burden becomes larger as you get older. It's harder to get things done. When the time comes, we'll like not having the constant concern about living in an older house and our ability to keep up with things," said Marta. "We won't even have to change a lightbulb."
So, you feel like you picked the right place in the right community at the right time?
"You can say that. No question. I already feel a sense of belonging," she said.
For more information about the Promenade Residences or becoming a Charter Member, call (602) 833-1358 or contact us through our online form below.