May Is The Month For Senior Health & Fitness
May 26, 2021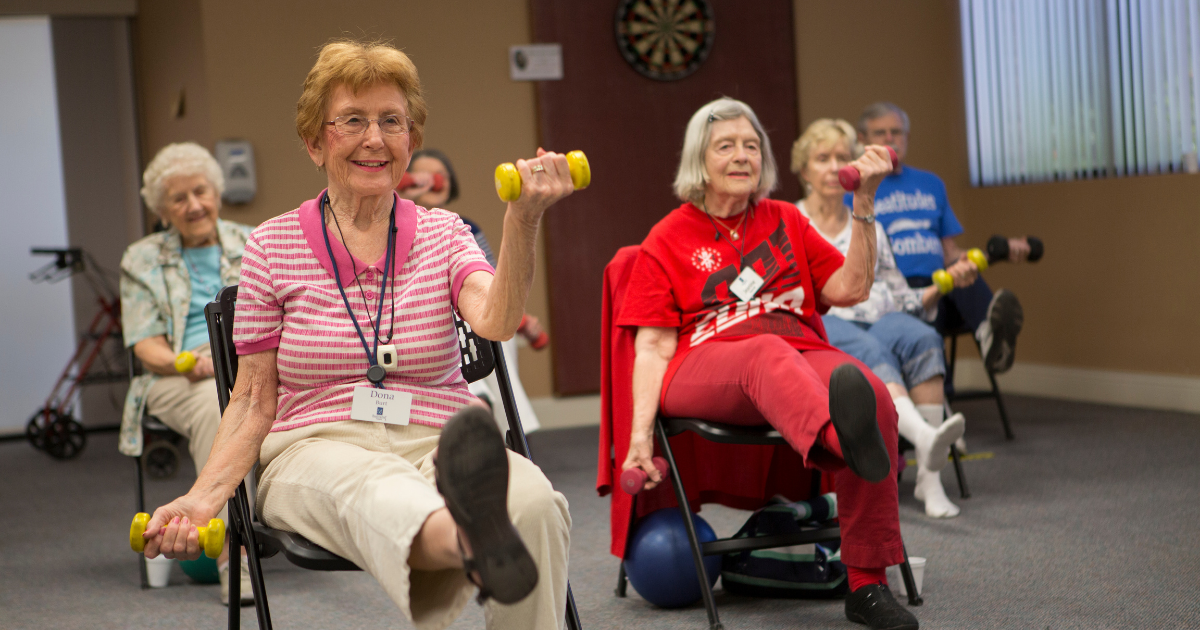 The nation's largest older adult health and wellness event, now in its 28th year, is May 26. National Senior Health & Fitness Day® will see 100,000 seniors in 1,000-plus locations participating in local health and wellness events.
We embrace and affirm this special day, pointing to our long-standing dedication to creating the community setting in which seniors can readily engage in healthy, fit lifestyles. We're coming out of a year in which a pandemic has limited access and activity for everyone. Therefore, this is an especially good time to ramp up your personal wellness practices.
Start Simple.
Consider basics, such as:
Healthy eating. Meaning, you should try to avoid the bad fats, control portions, get at least five servings of fruits and vegetables daily, include nuts, trim the salt—and do what your doctor tells you.
Dinner guests. Friendship is good for you, and during shared meals, you're likely to eat less.
Body & brain exercise. Strength-building and cardio training take care of what's below your chin but also remember to go upstairs to keep your brain growing. Reading, writing, word and memory games—it's all good for the gray matter.
Falling is a health risk and adding balance exercises to your fitness routine can help you avoid accidents.
Breaking routines. While the familiar brings comfort, trying something new or doing something differently can stimulate you mentally and physically.
The All-In-One Wellness Move.
Families often remark on the myriad improvements they observe in their loved ones after a move to a senior living community. It could be the food, the socially engaging environment, the programs and activities, or even the freedom from homeownership responsibilities. Or simply the entire lifestyle's effect on the resident.
Serving One Purpose Above All.
Senior living communities offer a setting for healthy living.
John Shilling, Director of Life Enrichment at Beatitudes Campus, oversees resident-serving departments at the community. His Life Enrichment team coordinates campus-wide services, including fitness, transportation and programs.
By creating meaningful opportunities for engagement, Life Enrichment fulfills the community's purpose—to enrich residents' lives. In doing so, the team must also rely on residents to share their ideas for what they want.
"We create an environment where there are no walls—where every Beatitudes resident feels welcome in every program," John says.
"Anyone Can Make Their Ideas Come To Life."
Senior living communities typically offer a variety of programs for life enrichment. However, Beatitudes Campus is among the few that provide such depth and breadth of programming—with many originating from residents' expressed interests.
Art gallery exhibits
Art studio
Ceramics and painting classes
Gardening areas and walking paths
Three dog parks
Musical and dance performances
Woodworking shop
Committees, clubs and special interest groups
Educational programs
Lectures and presentations
Spiritual programs
Volunteer opportunities
Bocce ball court
Fitness Center with state-of-the-art equipment
Fitness classes
Heated swimming pool
Motion studio for exercise and fitness classes
Putting green
In addition, Beatitudes Campus residents can also continue to learn. The Beatitudes Center for Lifelong Learning offers spring, summer and fall semesters, with as many as two dozen courses each semester. Plus, new courses are continuously in development—as resources become available or when residents express their interest.
Wellness Is A Point Of View.
In short, integrating wellness practices—the life enrichment that comes from fitness, socializing and learning—makes for a way of life not possible outside the community setting. That's why life in a senior living community is good for your well-being. And it's why so many new residents say, "I wish I'd moved here sooner."
So, on National Senior Health & Fitness Day, take up the challenge of enriching your life. Ramp up your personal wellness practices. Call (602) 833-1358 to schedule a tour at Beatitudes Campus or submit a form online.
Discover how a healthy, fit lifestyle can be an ideal choice for you and your family.