How To Decipher The Language Of Senior Living
April 22, 2021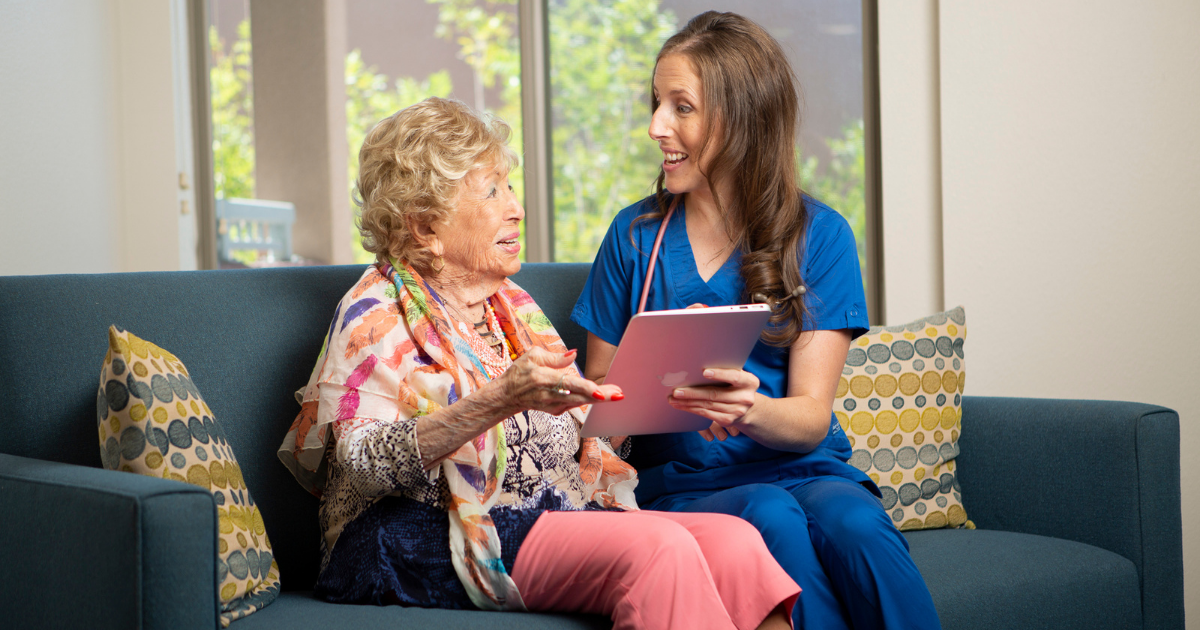 It's hard enough—whether it's by necessity or for convenience—to make a relocation decision for yourself or a loved one. Emotions run high. The need might be urgent. You searched for a nursing home, but aren't sure what you found? The language of senior living can feel complicated.
And then you encounter the big question: What exactly are you looking for? Independent living or assisted living? A retirement home, nursing home, or senior apartments? Or is a CCRC what you need? (And what is a CCRC?) I see the term "Life Plan Community" used. Is that the same as a CCRC?
We can help sort this out, providing perspective on the language of senior living that helps you know what the service and care levels are—and feel more confident about your search, too.
Independent Living
For those 62 and older—or in some communities, 55+—independent living is a lifestyle setting that provides comfortable senior apartments or other kinds of residences in which seniors can pursue daily life as they wish. It's the freedom to maintain your current lifestyle but enhanced by a host of services and amenities.
Independent living residents have few, if any, health conditions that limit their independence. By choosing a community over the continuing burdens of homeownership, they gain the benefits of the community's programs, activities, dining, and social milieu. Independent living is not considered a level of care because residents don't require care. But support and kindness are invariably found in abundance.
That's why it's common for new independent living residents to claim they wish they'd made the move sooner.
Assisted Living
With a comfortable residence designed to help less-than-fully-independent seniors live as independently as possible, residents get a helping hand with daily life. You may hear about the ADLs, the Activities of Daily Living. Assisted living customizes care to a resident's needs and how much assistance they need with the ADLs:
Personal hygiene. Bathing/showering, grooming, and oral care.
Dressing. Making appropriate clothing decisions; dressing and undressing.
Eating.
Maintaining continence. Using the restroom; hygiene.
Transferring/Mobility. Being able to stand from a sitting position; getting in and out of bed; walking independently between locations.
A second set of actions—the IADLs, or Instrumental Activities of Daily Living—are functions that aren't required daily but can also demonstrate the continuing or diminishing capabilities of a senior. IADLs are:
Basic communication skills (includes phone and email).
Transportation (driving, arranging rides, or using public transportation).
Meal preparation.
Shopping.
Housework.
Managing medications.
Managing personal finances.
An assisted living community will assess new residents' abilities relative to all these daily living activities and create individualized plans for helping each resident succeed. You can also expect assisted living services to adapt to a wide range of health care needs that might change over time, from minor to more acute.
Long-Term Care 
Sometimes known as skilled nursing, long-term skilled care, or a nursing home, the care setting is residential and staffed with RNs and a variety of other professionals. Long-term care provides for those who have a chronic illness.
In more recent times, the term "nursing home" has fallen out of favor. This is a reflection of how hospitality and activity programs are integrated with long-term care on campuses that include other levels of care—and often independent living, too.
Short-Term Care 
Also called short-term rehabilitation or simply rehabilitation, these specialized therapies—speech, physical, and vocational—address the needs of those recovering after surgery, accident, or illness. Short-term care is often found within the long-term care setting, where suitable residences, medical professionals, and equipment are readily available.
Short-term care is often hard work for the resident/patient and is, therefore, made as comfortable as possible. The objective will be to speed up the recovery process while ensuring further rehab won't be needed after discharge.
CCRC
Short for Continuing Care Retirement Community, which has lately been simplified to "Life Plan" community, the CCRC is the flagship among senior living or retirement communities. In addition to independent living, a CCRC also offers a continuum of care services, which may include assisted living, a memory care program, long-term care, and short-term care.
Often, those who move into a CCRC's independent living can have access to discounts on levels of care, making this an attractive plan for life —or "Life Plan." Residents and their families know that if a resident ever needs care, it will be provided in a known setting by those who've already established their compassion and trustworthiness.
Life Care
Some communities offer a contract that promises to deliver independent living residents any level of care needed for about the same rate as independent living. The rates for assisted living, memory care, and long-term care are usually higher when those care levels are entered directly. But with Life Care, independent living residents will pay less for those levels of care.
Terms That Misrepresent
You might also encounter such terms as elderly, frail, senior citizen, the aged, or retiree. You won't hear these from us, however, because these are words that marginalize, and seniors routinely rate them poor choices for their age group. Their preferences—and ours—include "seniors," "older adults" and "older people."
Finally, you'll sometimes hear "facility"—for example, assisted living facility or nursing facility. We don't use "facility" because it's institutional-sounding and, therefore, dehumanizing. We're the opposite of dehumanizing. In fact, Beatitudes Campus and other senior living communities are, by vision, mission, and design, humanizing.
We Stand Behind Our Words
For generations, families in and beyond Phoenix have turned to Beatitudes Campus for senior living. The region's first community of its kind, we are today a true Phoenix original. We've served the region longer, with more integrity and more success than any other senior living community.
Over the years, we've helped hundreds of families find the right answers to their senior living questions and needs. When you're searching, we can help you, too. Call us at (602) 883-1358 or contact us online.