Beatitudes Campus Earns Choice Community Award
February 27, 2020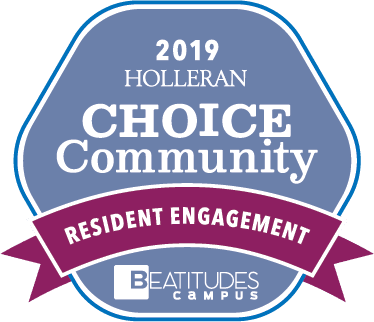 At the heart of any great community is a thriving, active resident population. With opportunities to laugh, to learn and to lead, people flourish, nowhere is this truer than at Beatitudes Campus. We're deeply proud of how engaging our community is and especially grateful to share it with others.
We're pleased to announce that Beatitudes Campus recently received the Holleran Choice Community Award for Independent Living Engagement. The honor recognizes the most engaging senior living organizations in the nation — where both residents and staff feel deeply and passionately engaged with their community.
To earn the award, communities had to score 85 or higher on a 100-point scale. The score was based on more than 160,000 resident and employee surveys from over 700 communities.
Top 15% of communities to create a deeply engaging atmosphere
The Holleran Choice Community Award places Beatitudes Campus in the top 15% of the hundreds of communities surveyed. It's easy to see why.
The residents and staff at Beatitudes Campus collaborate enthusiastically every day to create an active, engaged community where everyone feels welcome to participate, contribute and truly enjoy life in a myriad of ways. Residents enjoy musical events and spiritual services, games and neighborly get-togethers, and fitness classes and clubs of all sorts.
Beyond participating, residents actually lead the way here, deciding on the activities and programs. They manage the Beatitudes Center for Lifelong Learners as well as its three-semester curriculum. Collectively, they volunteer thousands of hours every year to help others. They operate the community gift shop and secondhand store, show new residents the ropes, visit homebound seniors, and offer help and hope to those in need.
We're truly honored to accept this award on behalf of the amazing residents and staff at Beatitudes Campus. We'd love to show you what makes our community so special and, indeed, award-winning. To schedule a visit or request a FREE Life Enrichment & Activities Guide, call us today at (602) 833-1358. We hope to see you soon!