Memory Care & Support: Our Unique Approach
March 31, 2020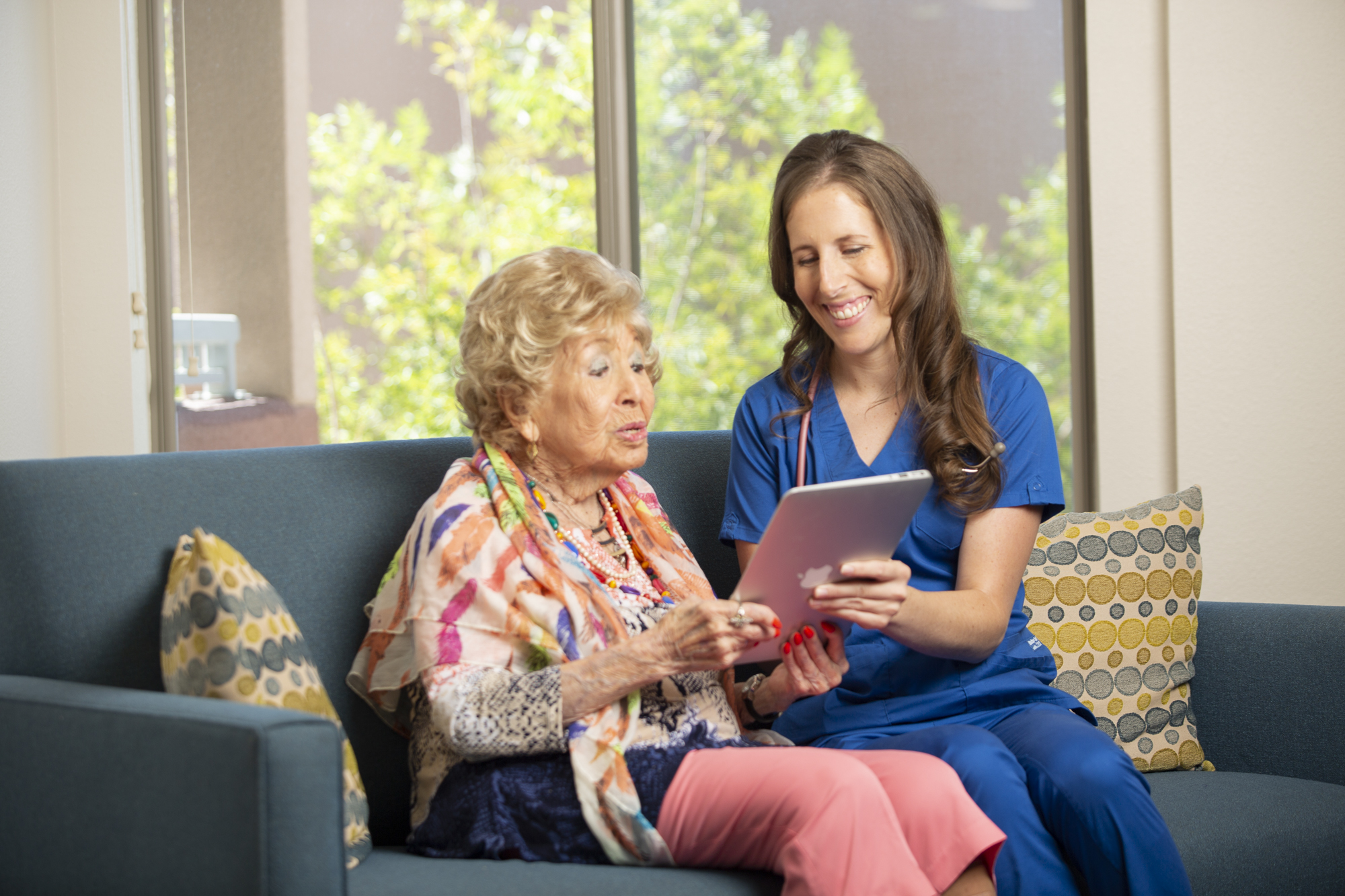 At Beatitudes Campus, we're leading the way in memory care and support. But, it hasn't always been that way. Like so many other places, we took a traditional medical approach focused on organizational goals rather than each individual's routines and preferences.
That all changed in 1997 when a team of caregivers at Beatitudes Campus began a multi-year journey of researching and developing Comfort Matters®, an innovative, person-centered way of supporting those who have trouble thinking.
"Advocacy and social justice are fundamental principles of Beatitudes Campus because of our roots in the United Church of Christ. We started with those commitments and beliefs," explained Tena Alonzo, Director of Education and Research and Director of Comfort Matters at Beatitudes during an interview with ACCESS Health International, a healthcare think tank and advisory group.
In working with health experts around the country, what they learned changed everything about how to support people with dementia. 
"We discovered that we didn't know much about taking care of people with dementia. It took time to develop the culture, policies, and procedures to become as radically person-centered as we are today. It was a labor of love for everyone."
Taking A Holistic Approach That Respects Autonomy
Tena and her team, which included Karen Mitchell, Registered Nurse and Comfort Matters Educator, realized that engagement, autonomy, and choice bore huge benefits for individuals with dementia—as they do for all people.
"If we can help people sleep when they are tired, they can wake refreshed and more often be their best selves. If people can eat what they want when they want—day or night, they tend to be healthier, happier, and live longer. If they're able to enjoy their favorite and familiar activities, they feel content and calm," said Alonzo.
The team found that caregiving in such a holistic way dramatically reduces the number of medications, which in turn reduces side effects and helps people feel better overall. With Comfort Matters, individuals experience lower rates of incontinence, less sundowning, and decreased hospitalizations. The Beatitudes Campus staff is happier, too. Less employee turnover means more continuity of care and more familiar faces for residents—a win-win for everyone.
Truly Knowing Each Person
The concept of serving people in such a profound way that respects their personal attachments to routines and preferences and honors the individual and their life experience became the mission. To make it happen, the team upended and recreated the existing care model that had been ingrained in society for 100 years. They pressed forward, educating and collaborating with Beatitudes Campus management and staff, doctors, regulatory agencies, and families.
Today, the entire Beatitudes Campus staff is empowered to engage and provide comfort to residents. From housekeepers and maintenance crews to the nurses and everyday caregivers, every single person is encouraged to be innovators and share ideas so we can all meet residents where they are.     
With families as our partners, we can be better caregivers and help guide and educate families through this time, according to Alonzo. Because we see dementia in a different way, everyone—families, staff, and other residents on campus—feel more empowered and less afraid.
Translating What We Learned Into A Dementia-Friendly Place To Live
Beatitudes Campus serves people with all levels of physical and cognitive ability. Some live in their own apartment or patio homes while others live in suites designed for skilled nursing care, memory support, or assisted living. Because we care and respect each other, you'll find residents of all abilities laughing and enjoying time together—eating lunch, putting on the miniature green, tapping their toes to a musical performance, and more.
Hard work, unyielding devotion, and the willingness to innovate—that's how Beatitudes Campus transformed into a dementia-friendly community, and why we're different.
"Most residents have 65 or more years of life behind them. We honor that person because of their life experience," said Alonzo. "We must have a culture that allows people to be themselves. That is the heart of person-directed living."
Here, you can read more about Tena Alonzo and her team's innovative approach to helping people live with dementia. To learn more about Beatitudes Campus' extraordinary memory support options, call us today at (602) 833-1358 or submit a contact form on our website.